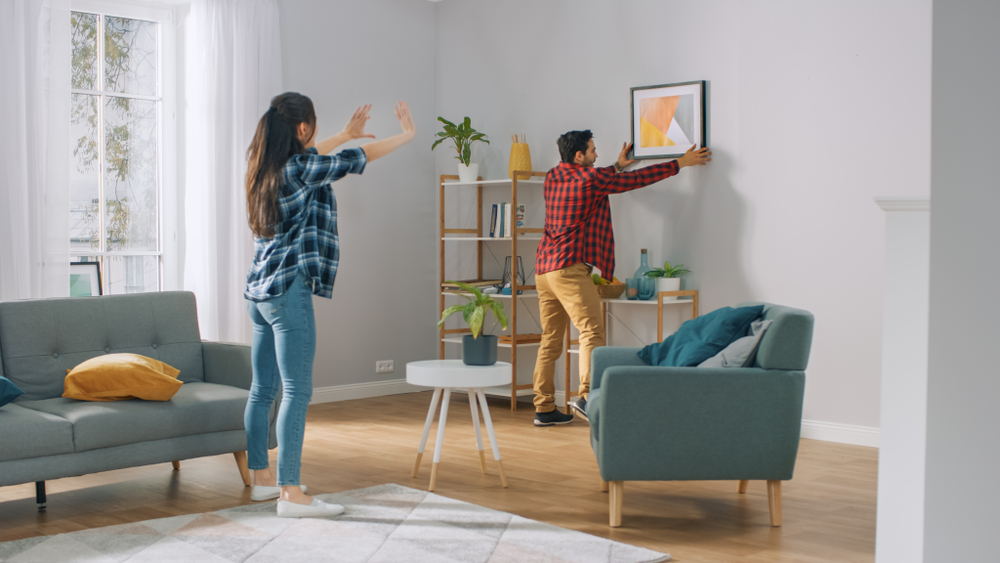 5 best decorating tips on a budget
As 2020 is getting underway, many of us start to look at refreshing our home décor. There are some great decorating tips on a budget on the internet. You can keep costs lower by using thrift stores, dollar stores and the likes of eBay and Craigslist.
Merely using a coat of paint alone is an inexpensive way of changing the look of a room. Think about having an accent wall and using colors that complement each other. Look at different painting techniques too- stripes, color washing, sponging and many more ideas online. Get creative using stencils, either bought or homemade, to add that touch of glamor.
Likewise, why stop at walls? You can buy heavy duty paint for floors that deals well with foot traffic. Think about using furniture paint on items you already own, or that you have picked up from a thrift store. You can use furniture paint to transform the look of your kitchen units and doors- a lot cheaper than a new kitchen!
Contemplate using tile paint too if your bathroom or kitchen needs an overhaul in that department. In the same fashion, don't forget spray paints- ideal for changing the look of an old and tired refrigerator, for example.
2. Furniture
Consider removing surplus furniture rather than adding to what you already own. A minimal look may be all you need to make that difference. Perhaps swap pieces around from different rooms and repurpose them. A good bookshelf, for example, can make a lovely dresser for showcasing crockery in the kitchen.
Changing handles and doorknobs on doors, whether in the kitchen or bedroom, makes an adequate difference. Have you thought about simply changing any lampshades to give your lighting fixtures a new lease of life? Also, replacing the faucets in your kitchen or bathroom can very quickly modernize the look of a room.
3. Fabrics
New bedding to match your bedroom walls and curtains needs not to be expensive- many stores offer great deals for such accessories. Fabric dye is also another option to look into as this won't damage the bank account. If you have cotton bedding that would dye really well!
If you feel your sofa is a little tired, a modern throw can help it look fresher. Placing a rug and cushions in a room adds to the homely feel.
To change the look of your bathroom, get some new colored towels, or dye some older ones. The same can be achieved with bath mats and a shower curtain. Try adding a table runner to the dining table, with other accessories such as candles as a centerpiece. Don't forget the impact that a change of curtains can have too.
4. Interesting Walls
Meanwhile, there are lots of ways to change the look of a room by accessorizing. Adding mirrors to walls provides a focal point and also brightens it. Mirrors can also help to make a small room appear larger. Little decorative fairy lights around mirrors can look extremely inviting.
If you have a calendar with some pictures that you love, why not frame them? A display of family photos brings that touch of coziness to the home. Strategically placed shelving can make an excellent base for a focal display too. In the same fashion, box frames look great with sentimental items on show inside.
5. Final Touches
Once you have the furniture in place and the walls just how you like, you can add more to bring it all together. Candles give reasonable amounts of ambience to a room and are not expensive. A small hand-picked flower will look good in a small bottle.
Similarly, think about a homely glass jug or mason jar filled with fairy lights. Some fantastic looking boxes can be used for storage to declutter, even old hat boxes! Additionally, potted plants can help bring a bit of life to a room.
By and large, the internet is a beautiful place from which to gather ideas, let alone purchases. Visiting garage sales, dollar stores, and estate sales can be good fun. Using online sites such as Facebook Buy and Sell, Craigslist, and Freecycle help you keep costs to a minimum.
With the help of Pinterest or YouTube for inspiration, that dream room can be yours for a low cost! Home improvements can be budget-friendly and fun!
Here at Paydayking, there are loans for any purpose from $100-$2,500, with any credit status.
Start your application today and get a decision in minutes.